Chocolate Whoopie Pies (Original)
1 2/3 Cup Flour
2/3 Cup Cocoa Powder
1 1/2 Tsp Baking Powder
1 Tsp Salt
1/2 Cup Vegan Butter (I used Earth Balance)
1 Cup Light Brown Sugar
1 Egg Substitute (I used a Flax Egg)
2 Tsp Vanilla
1 Cup Vegan Milk (I used Unsweetened Almond Milk)
Preheat the oven to 375 F.
If preparing a flax egg, grind 1 Tbsp of flax seeds. Put them in a small bowl and add 3 Tbsp of water. Mix them up and refrigerate for 15 minutes.
Mix the flour, cocoa powder, baking powder and salt in a bowl.
Cream the butter and brown sugar in a separate large bowl.
Add egg substitute and vanilla and keep mixing.
Pour half the dry ingredients and half the milk into the wet ingredients bowl. Mix.
Repeat with the other half.
Drop a rounded table spoon onto your baking sheets.
Bake for 8 minutes.
Let cool.
Chocolate Chip Cookie Dough Filling (Original)
1/2 Cup Vegan Butter (I used Earth Balance)
1/2 Cup Light Brown Sugar
1/4 Cup White Sugar
3 Tbsp Vegan Milk (I used Unsweetened Almond Milk)
1 Tsp Vanilla
1 Cup Flour
1/2 Cup Mini Chocolate Chips (Make sure there's no milk products)
Cream butter and sugars.
Add vanilla and milk. Mix until uniform.
Fold in chocolate chips.
Spoon on cooled whoopie pies to make sandwiches.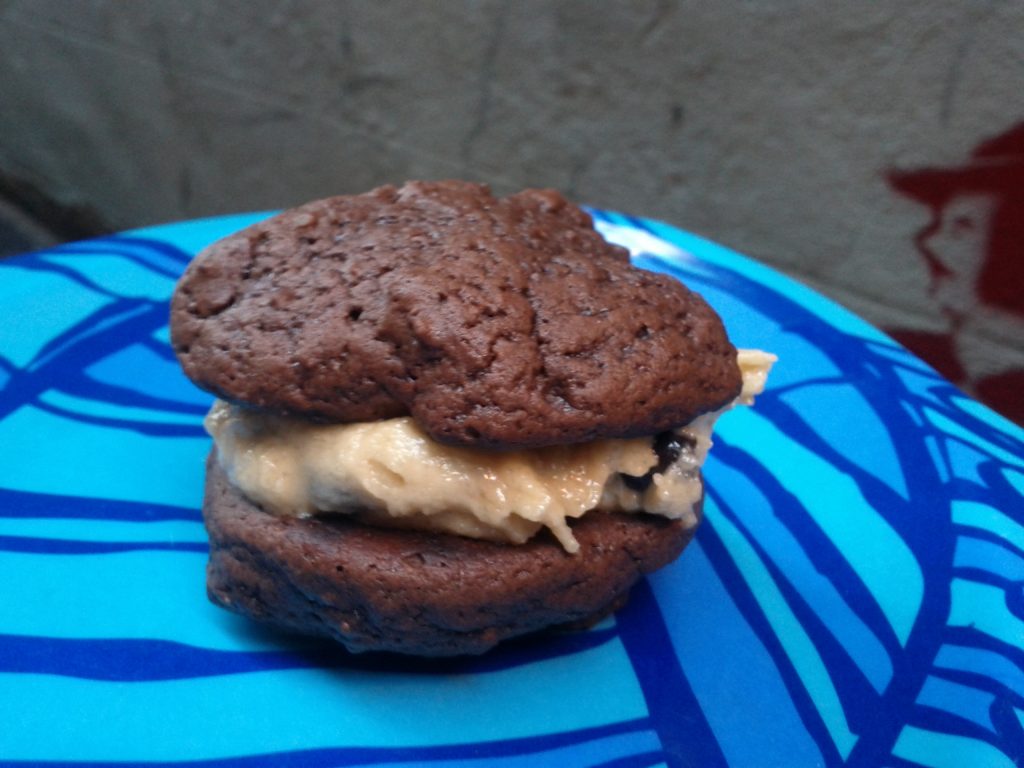 Notes
So I wanted to bake for a support group tonight, but all the stores are closed. My fridge was purposefully empty because I had been on a trip for the last few days. I did however have butter and almond milk, as well as some chocolate chips left over from a previous project. I found a recipe that could work with that and off I went.
The whoopie pie sandwich part was actually pretty devoid of taste. It was the filling that made it good. Otherwise very rich – probably too much so for me to make it again.