I've been looking for traditional French-Canadian recipes. I grew up with a few that are delicious and yet completely unknown outside this culture. Wondering what else I was missing out on, I decided to look up more recipes that might not have entered my family lore.
The French-Canadian take on Grandfather Dumplings was one of them. I had never heard of grand-pères before. I decided to give it a shot. The traditional recipe calls for a cup or more of maple syrup, which is unaffordable for many people – so I did the caramel version using these two recipes as a basis. If you want the original version, replace the syrup ingredients below with 2 cups maple syrup, 1 cup water.
Batter
2 Cups Flour
2 Tbsp Sugar
4 Tsp Baking Powder
½ Tsp Salt
⅓ Cup Vegan Butter (eg. Earth Balance)
1 Cup Vegan Milk (eg. Unsweetened Almond Milk)
Mix the dry ingredients.
Add the butter, mixing it in until the mixture becomes crumbly.
Make a hole in the center, and set a side a cup of milk. You'll pour it into that hole later.
Caramel Syrup & Preparation
2 Cups Brown Sugar
2 Tbsp Vegan Butter
1¾ Cup Water
1 Tsp Vanilla Extract
Place all the ingredients in a large pot.
Bring to a boil.
Put the heat down to low (2 or 3).
Add the milk now to the flour mixture. Combine well.
Take large spoonfuls of the batter and dump them into the syrup. Make sure they're well spaced out.
Put the lid on and leave for 15 minutes. Don't remove the lid!
Take the pot off the heat, and let rest for another 10-15 minutes.
Serve. Goes well with ice cream, or just as breakfast material!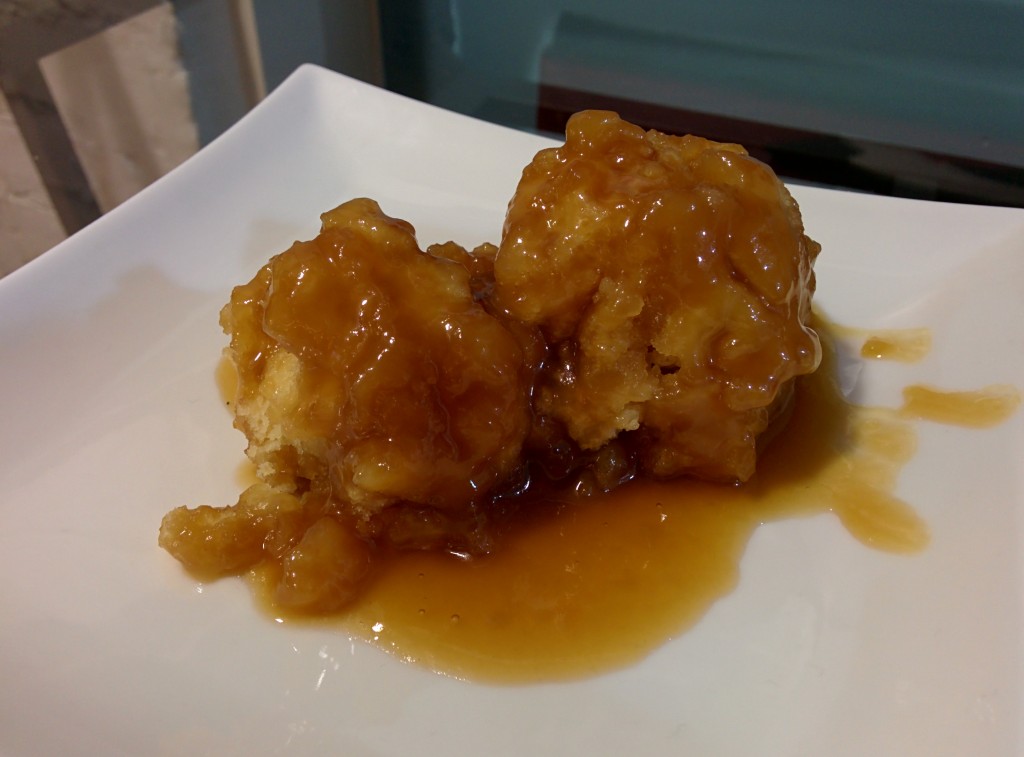 Thoughts
Delicious. The insides has a similar taste to a thick soft pancake. This one is a keeper.