Sloppy Joe's
Hamburger Buns (Original)
Makes 12-18 buns.
1 Cup Warm Vegan Milk (eg. Almond Milk)
1 Cup Warm Water
2 Tbsp Sugar
2 1/2 Tsp Yeast
5 Cups Flour
1 1/2 Tsp Salt
1 Tbsp Vegan Milk
1 Tbsp Water
Sesame Seeds (do not skip!)
In a large bowl, combine milk, water, sugar and yeast. Mix around and let sit for 5 minutes.
In a separate bowl, combine flour and salt.
Add the flour to the liquid, half a cup at a time.
Knead the dough until elastic. Coat the sides of the bowl in oil.
Cover the bowl and let the dough rise in a warm place until doubled in size. About 1 hour.
Punch down the dough and divide up into 12 – 18 buns. Knead each until dry and place on a cookie sheet. Let rest for 5 minutes.
Flatten the buns slightly. Cover the buns and let rest for another 20 minutes or until doubled in size.
Preheat the oven to 400 F.
Whisk together milk and water. Brush mixture on each bun, then sprinkle sesame seeds.
Bake in the oven's centre rack for 15 minutes or until golden brown.
Let cool on a cooling rack.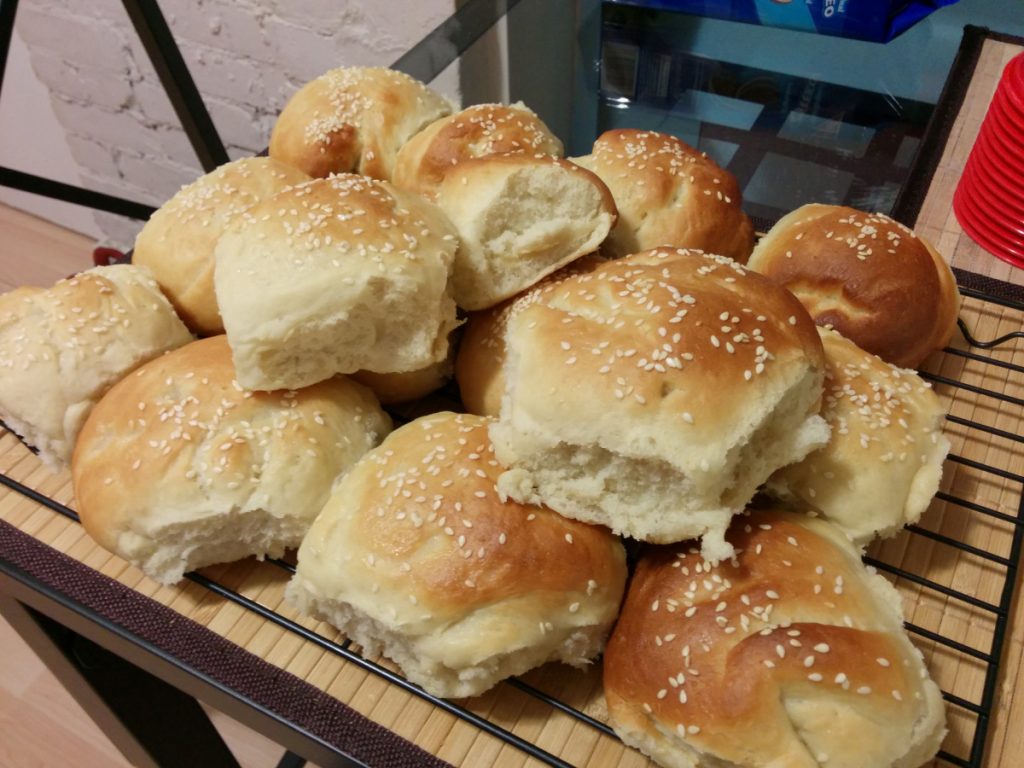 Filling (Original)
Enough filling for 12-18 buns.
1 Tbsp Oil
1 1/4 Pound Ground Textured Vegetable Protein
1/4 Cup Brown Sugar
1 Tbsp Steak Seasoning Blend
1 Medium Onion, Chopped
1 Small Bell Pepper, Chopped
1 Tbsp Wine Vinegar
1 Tbsp Worcestershire Sauce
2 Cups Tomato Sauce
2 Tbsp Tomato Paste
In a large pot on medium-high heat, add oil and TVP.
Break up the TVP.
Mix brown sugar and steak seasoning. Add to TVP mixture and combine.
When the TVP has browned, add the onion and bell pepper.
Reduce heat to medium and add wine vinegar and Worcestershire sauce. Let heat for 5 minutes.
Add tomato sauce and paste. Stir and reduce heat to a simmer. Let sit for another 5 minutes.
It's ready to serve! If I wasn't serving immediately, I left mine on low heat and added a bit of tomato sauce if it lost a bit of moisture.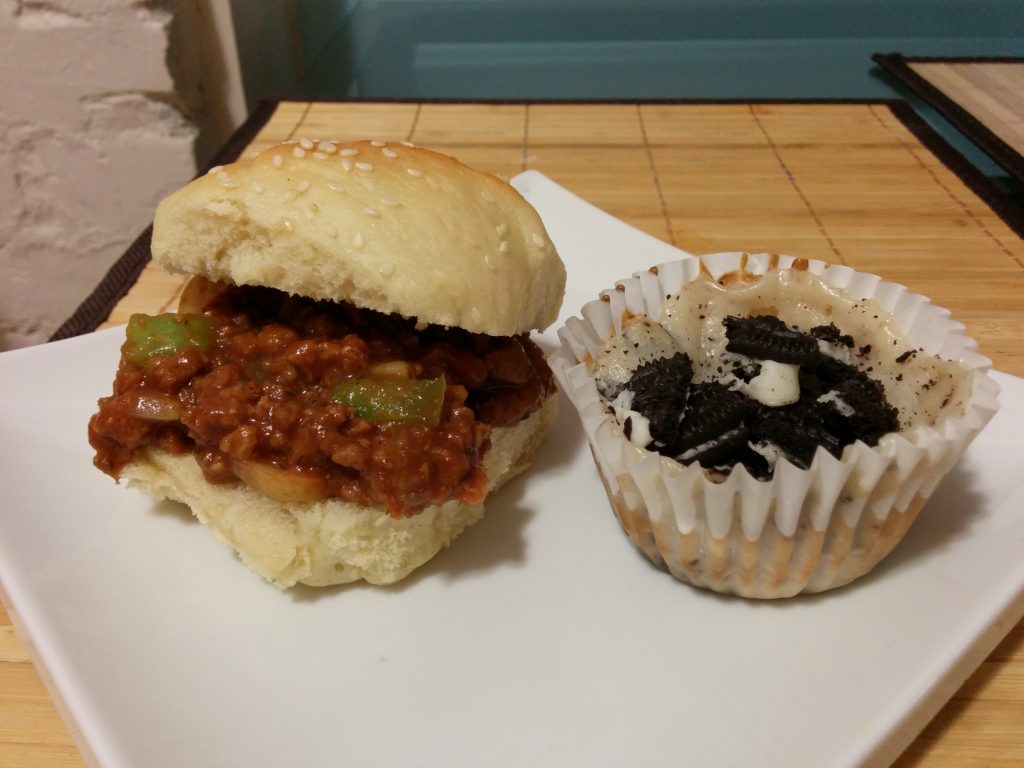 Thoughts
This was my first time having Sloppy Joe's, and I found that the filling tasted amazing. The hamburger buns I made were a bit on the dense side, but quite good. The sesame seeds really imparted their flavour. I'll be very pleased if I could make the buns fluffier. Perhaps I'll try this bun recipe next time. Filling though? Awesome.
Oreo Cheesecakes
Makes 12 muffin-sized cheesecakes.
22 Oreo Cookies
2 Packages of Vegan Cream Cheese (eg. Tofutti)
2/3 Cup Sugar
1/4 Cup Water
1 Tbsp Lemon Juice
1 Tsp Vanilla
1/2 Tsp Salt
Set the oven to 350 F.
Line muffin tin with paper liners.
Put an Oreo on the bottom of each.
Blend cream cheese and sugar until softened.
Add water, lemon juice, vanilla, and salt to cream cheese mix. Combine well.
Break up 4 Oreos into crumbs and place in mixture. Fold them in.
Add mix to the paper liners.
Bake for 25 minutes.
Let cool, then refrigerate for at least four hours. You'll find that the centre sinks inwards as it cools.
When ready to serve, crumb up 6 Oreo cookies and garnish the top of the cheesecakes with them.
Thoughts
Underwhelming. This was a hybrid of my previous vegan cheesecake recipe and a bite-sized Oreo one I spotted online. I liked the Oreo cookie base and how crumbs were folded in. However, the cheesecake part was gummy tasting and really not all that savoury. Going forward, I think I'll try a different recipe.
Hot Chocolate
Multiply the portions by the servings desired.
1 Cup of Vegan Milk (eg. Almond Milk)
1 Tbsp Sugar
1 Tbsp Cocoa Powder
Whisk all ingredients in a sauce pan and bring to a simmer.
Serve!
Thoughts
Simple and delicious.