I was asked to make a peanut butter cheesecake for Christmas. I ended up doing one that was a mix of these two recipes.
Oreo Crust
Box of Oreo Cookies (30 Sandwich Cookies)
1 Cup Roasted Peanuts
1/2 Cup Butter
Melt the butter in a sauce pan.
Grind up the peanuts and add to a large bowl.
Add the cookies to the bowl and mash them up.
Add the melted butter and mix it all together.
Place the mixture at the bottom of a 10″ springform pan and pat it down.
Cheesecake Filling
32 oz Cream Cheese (4 Packages)
5 Eggs
1 1/2 Cups Brown Sugar
1 Cup Peanut Butter
1/2 Cup Whipping Cream
1 Tsp Vanilla Extract
1 Bag Reese's Minis
Set oven to 275 F.
Cream brown sugar and peanut butter.
Add eggs, vanilla, whipping cream, and cream cheese.
Mix until smooth.
Fold in Reese's Minis.
Pour filling into prepared crust.
Place the cheesecake in the oven for 1.5 hours.
Turn off the oven, leave the door ajar, and let the cheesecake cool to room temperature.
Place in the refrigerator overnight.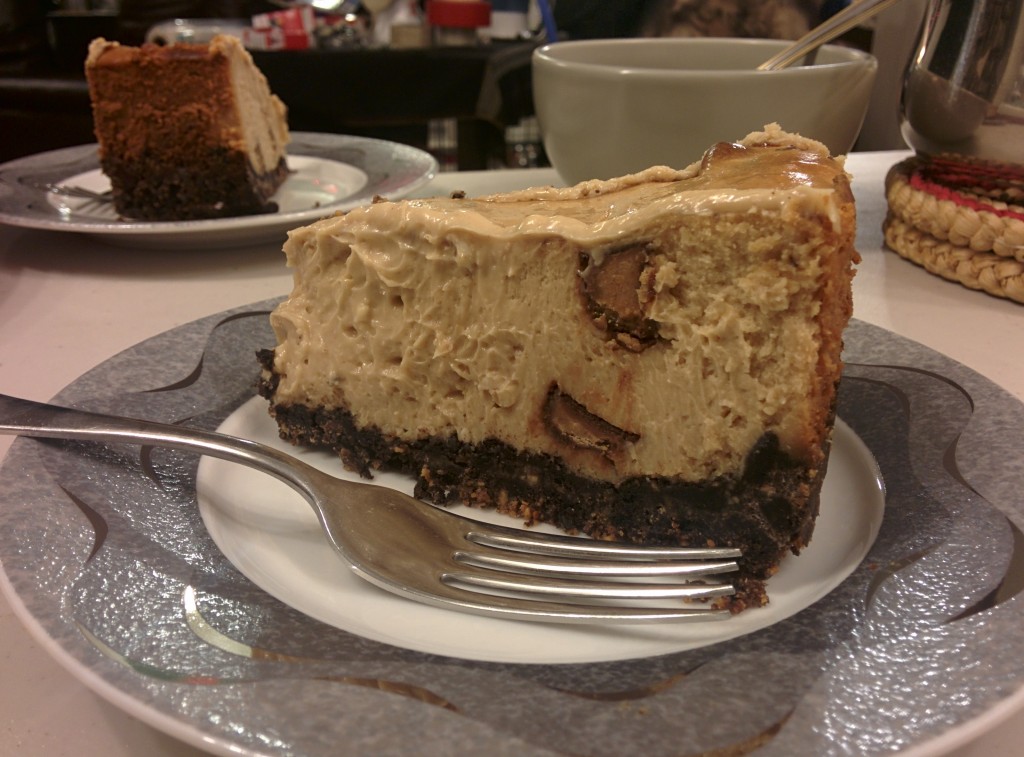 Thoughts
This was well received. Even though I didn't use a water bath, the cake did not crack and in fact was a little too moist in the centre. The crust was edible but hard to cut through in the thicker spots. I'm thinking skipping incorporating the roasted peanuts might help next time. Overall I thought the cheesecake was very good though.