I had made a sweet maple-infused bread that wasn't all that spectacular so I decided to turn it into bread pudding! I stole the idea from a bakery up the road that has incredible white chocolate versions.
White Chocolate Bread Pudding (Original Recipe)
Makes four 4.5″ tarts. Approximately 500 calories per serving.
4 Stale Slices of Sweet Bread
2 Tbsp Butter
112g White Chocolate Chips
2 Eggs
½ Cup Milk
½ Cup Whipping Cream
3 Tbsp Sugar
3 Tsp Vanilla
Cut the bread into half-inch cubes and place in four 4.5″ tart pans. Make sure the bread is more or less level with itself. Protruding pieces will toast when the tarts are baked later on.
Drizzle melted butter on top of the bread.
Spread the chocolate chips on top.
Whisk the eggs in a bowl.
Combine the milk, cream, vanilla, and sugar in a small sauce pan. Stir frequently as you bring to a boil.
Pour the hot milk mixture into the bowl with the eggs, stirring constantly. Don't whisk as the custard will foam.
Strain the custard over the egg and chocolate. Let stand for 10 minutes.
Preheat the oven to 325F.
Bake the tarts for 20-25 minutes, or until brown on top.
Serve warm.
If served after the tarts have cooled, throw them in the microwave for 10-15 seconds.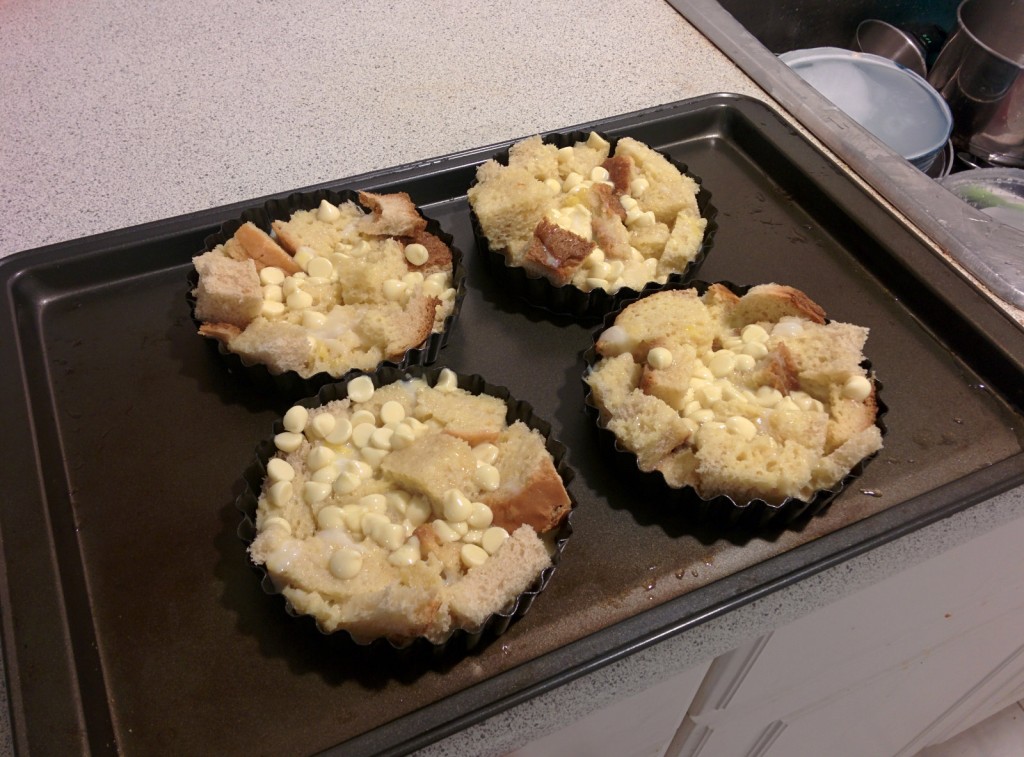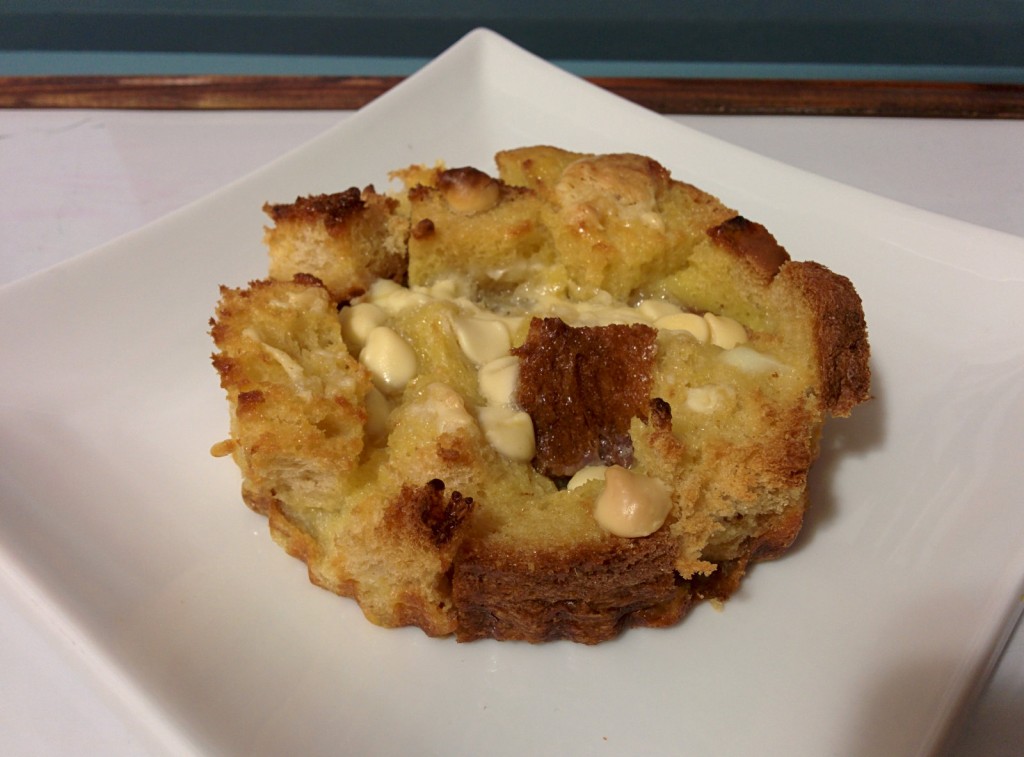 Thoughts
Delicious. There was a bit of dry toasted bread from where it protruded. I think making sure that the bread was all level with itself would have solved this. I wasn't sure whether to add more melted butter, but it seemed right by the end. Maybe concentrate more of the hot custard in the center.
Make sure to microwave if these have sat in the fridge overnight; they don't taste good cold nor dry.
Second Attempt Notes
For the second attempt, instead of cutting up the bread in cubes, I just punched out slices of bread using the tart pans. It made the end result more consistent and more like the products from the bakery up the road. I also cut down the white chocolate chips by half – I think next time I'd go back to the original amount. I used a loaf of my whole wheat bread – I think next time I'd use white bread or something softer.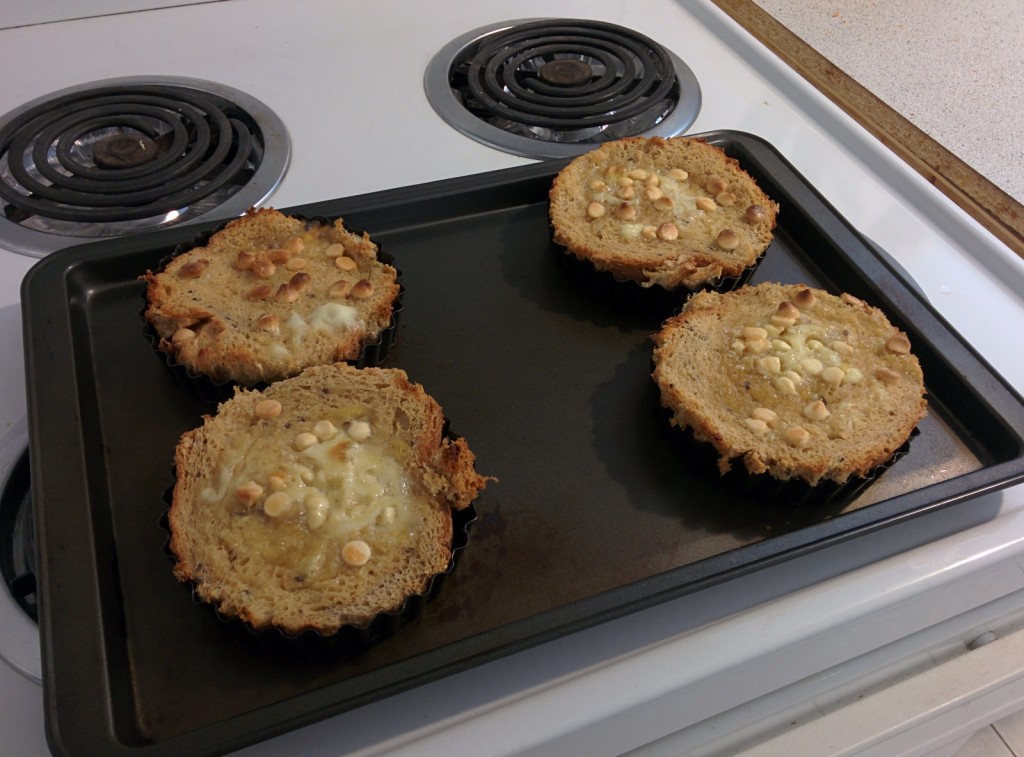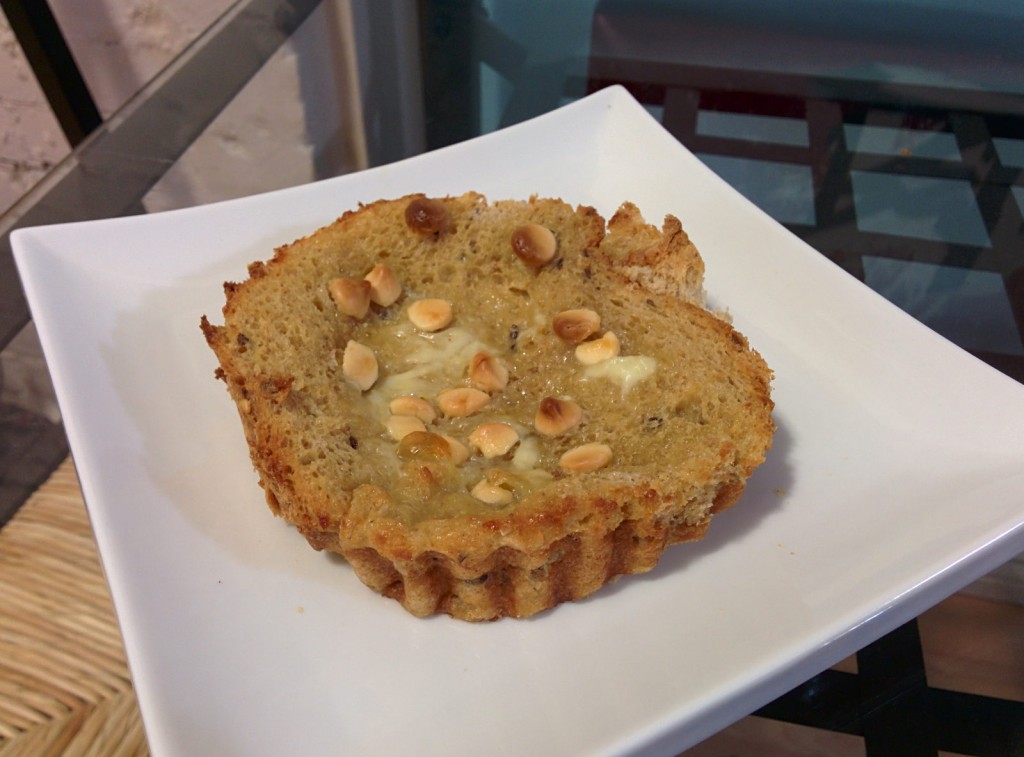 Still delicious. This recipe is now one of my favourites.