I experimented this weekend, preparing vegan & gluten-free butter tarts. I was looking online for recipes, and they all called for raisins – which I really don't like. So I improvised.
Vegan & Gluten-Free Butter Tarts (Original Recipe)

Makes 12 tarts.
Pastry
3 Cups Gluten-Free All Purpose Flour
1 Cup Sugar
1 Tbsp Nutmeg
½ Tsp Salt
1 Cup Vegan Butter
¼ Cup Ice Water
Oil and flour the wells of a muffin tin.
Mix the dry ingredients in a bowl. Add the butter and mix until crumbly.
Add the water and form into a ball of dough. Add more water by the tablespoon if necessary.
Place the dough in the fridge for 30 minutes to an hour.
Roll out the dough so that it's ¼ inch thick and cut out twelve circles. Place in the muffin tin.
Filling
½ Cup Brown Sugar
2 Tbsp Agar Agar
½ Cup Vegan Butter
½ Cup Maple Syrup
2 Tsp Vanilla
2 Tbsp Corn Starch
Preheat the oven to 450 F.
Mix the sugar and agar powder in a bowl.
Add the maple syrup to the bowl and mix.
Melt the butter and add to the bowl. If you're using a vegan spread like Earth Balance, you can brown it instead of just melting it.
Add the corn starch and mix.
Pour the filling in the prepared shells.
Bake until puffed and browned, about 10-12 minutes.
Let cool to allow the agar agar to set.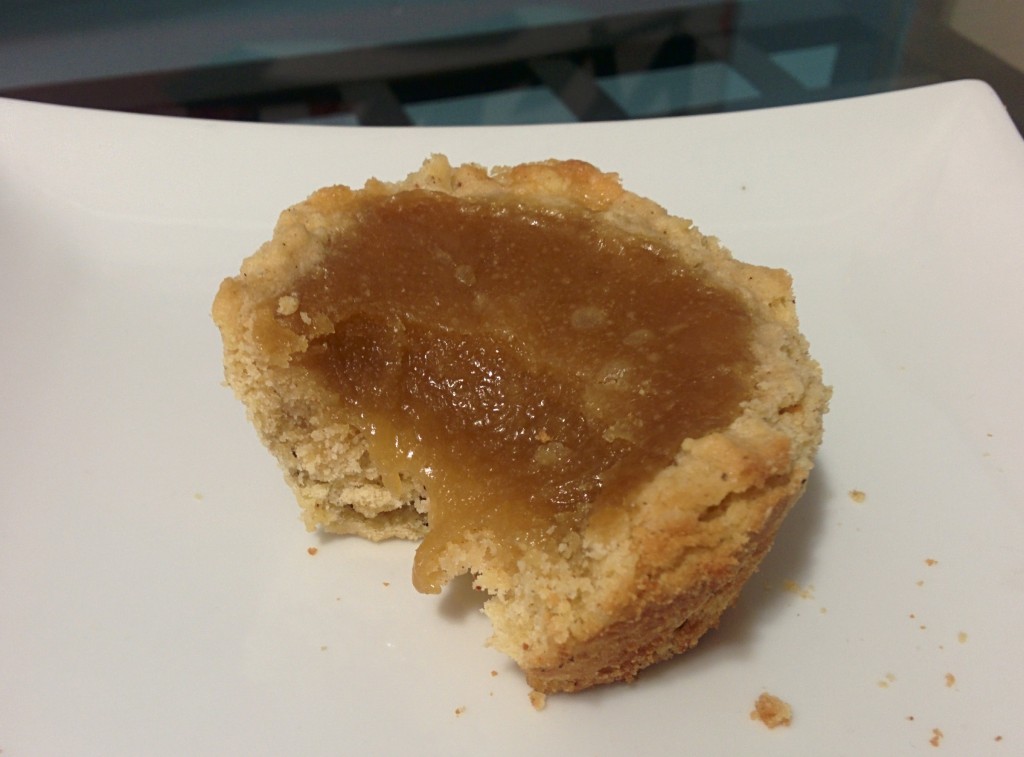 Thoughts
This recipe diverges from the original a bit. A whole nutmeg became ground nutmeg, which is more readily available. The agar agar was added as the mechanism through which to gelatinize the filling. I'm not sure if two flax eggs would have also worked.
Overall, these are okay. The shells are a bit thick. Perhaps cutting down the pastry ingredients by up to a third next time. The filling meanwhile is very average. Perhaps mixing in chopped pecans or walnuts could have given it that extra kick.
This is a functional treat and I can see me making these again, though I do think there's room for improvement.