Again with Bridgehead. They had a quinoa chocolate cake and I wanted to try to make something like it.
Chocolate Cake (Original)
⅔ Cup Quinoa
1⅓ Cup Water
¼ Cup Flax Seeds
½ Cup Water
⅓ Cup Almond Milk
1 Tsp Vanilla Extract
¾ Cup Vegan Butter (eg. Earth Balance)
1½ Cup Sugar
1 Cup Unsweetened Cocoa Powder
1½ Tsp Baking Powder
½ Tsp Baking Soda
1 Tsp Salt
Bring quinoa and water to a boil in a sauce pan. Cover and reduce to a simmer for ten minutes. Turn the heat off, fluff with a fork and let cool for another ten minutes.
Preheat the oven to 350 F.
Grease a spring form pan for the cake. If you use a different pan, also cover the bottom with parchment paper.
Grind the flax seeds and mix with the half cup hot water to a bowl. Let cool.
Combine almond milk, flax mix, and vanilla in a large bowl using an immersion blender or food processor.
Add the cooked quinoa and butter to the same bowl and blend.
In another large bowl, mix the sugar, cocoa powder, baking powder, baking soda and salt. Add the blended quinoa mixture and mix well.
Pour into the greased pan.
Bake for 45 minutes or until a tooth pick comes out clean.
Let cool.
Chocolate Frosting (Original)
2 Cups Icing Sugar
¼ Cup Vegan Butter
¼ Cup Almond Milk
¾ Cup Unsweetened Cocoa Powder
½ Tsp Vanilla
Cream sugar and butter.
Add remaining ingredients and mix until smooth. Add almond milk by the tea spoon if it's too hard.
Place frosting on top of cooled cake.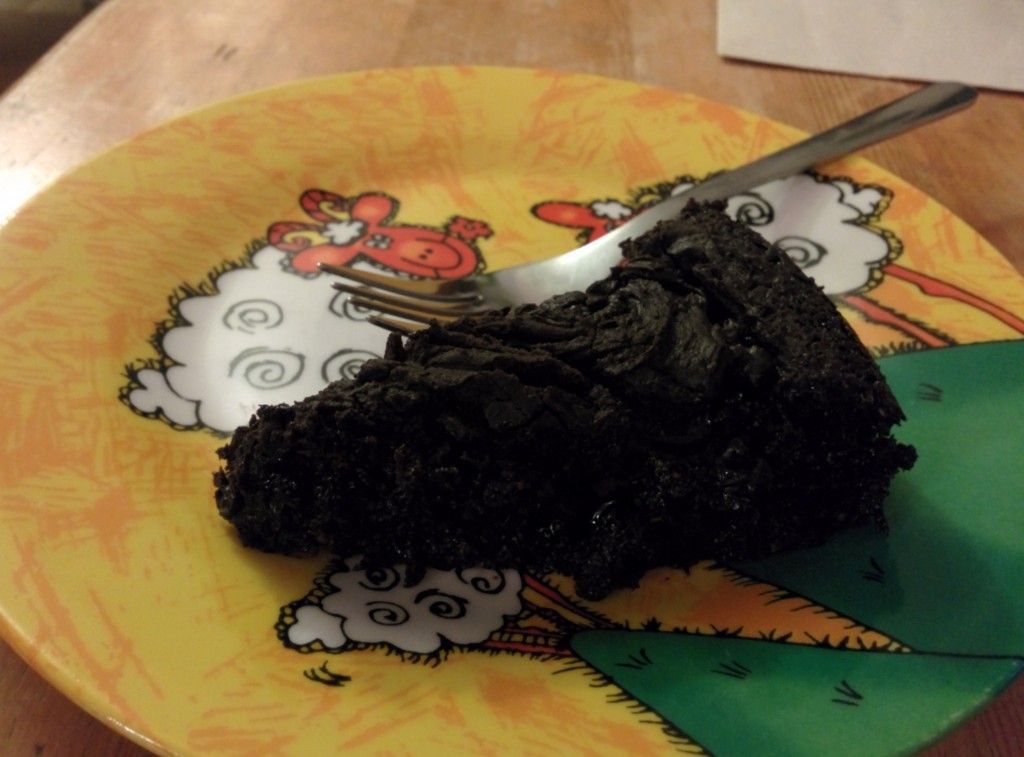 Thoughts
The cake was moist. I was in a rush when I made it, so I didn't give it adequate time to cool before I threw on the frosting. As a result it kind of sunk into the center displacing the batter. You could tell the quinoa and flax meal were there, but it impinge on the taste.
This wasn't as dense as the usual flourless chocolate cakes and safe dairy-wise. I was wondering how I could enhance the presentation. Maybe a draw pattern on top with white glaze and/or top it with cherry pie filling.