Vegan Soft Vanilla Butter Cookies (Original)
1/2 Cup Vegan Butter (eg. Earth Balance)
1/3 Cup Icing Sugar
1 Tsp Vanilla
1 1/3 Cup Flour
1 Tsp Baking Powder
2 Tbsp Almond/Soy/Rice Milk
Preheat the oven to 325F.
Beat butter and sugar until fluffy. Mix in vanilla.
Add the rest of the ingredients and combine. Add milk if too dry.
Make small balls of dough and gently pressing them down on the cookie sheet.
Bake 18-20 minutes.
Vegan Cream Cheese Frosting
4 Tbsp Vegan Cream Cheese (eg. Tofutti)
3 Tbsp Vegan Butter (eg. Earth Balance)
2 Tsp Vanilla
1/2 Cup Icing Sugar
Mix the ingredients. If it's too runny, add icing sugar. If it's too rigid, add cream cheese/butter. I always play this one out by eye.
I dipped the cookie into the mixture then topped off with sprinkles.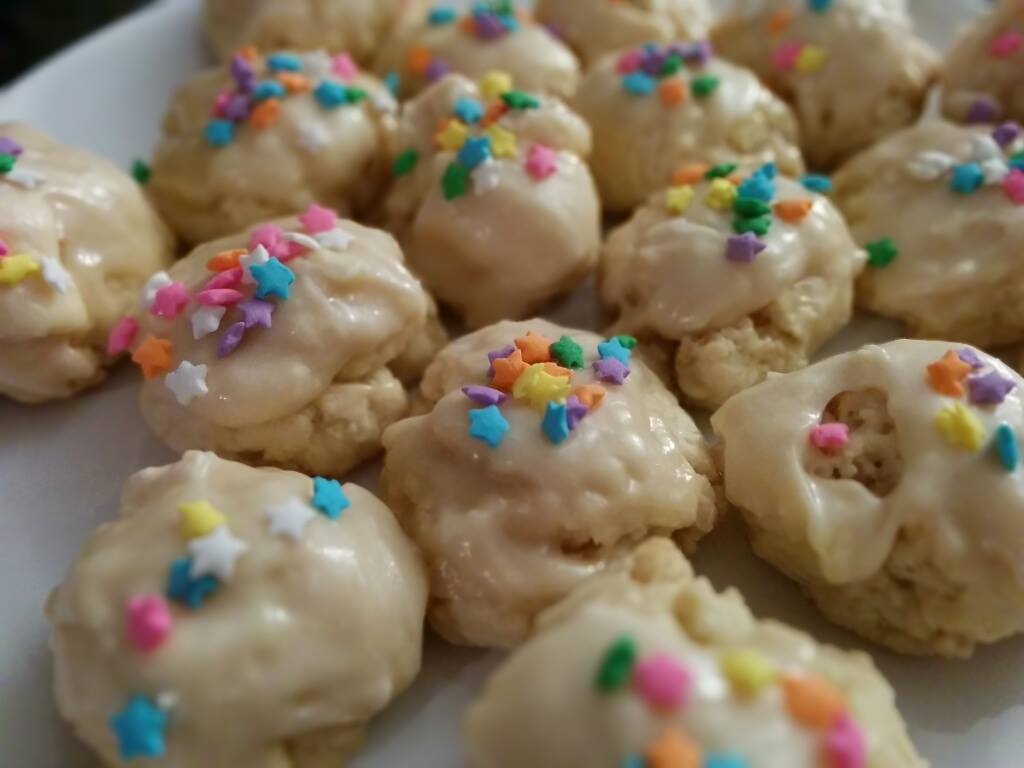 Thoughts
I sought to replicate these incredibly soft cookies a coworker obtained. This ended up being quite close to the mark.
I screwed it up and mixed all of the ingredients in one go. Working with it was like working with pastry dough and I added milk to help me through. Still, the end product was very soft and delicious. I wonder if not beating the sugar and butters first was actually a boon. The cookies themselves are without flavour – it's the frosting that makes them what they are. As an aside – I made sure that the frosting wouldn't harden by making sure there wasn't too much icing sugar.
This accidental find is now one of my favourite cookie recipes.