Makes four 4.5" tarts.
Oreo Cookie Crust (Original)
24 Oreos
1/4 Cup Melted Vegan Butter (eg. Earth Balance)
Place parchment paper in the bottom of the tart pans.
In a large bowl, turn the cookies into fine crumbs.
Add melted butter and mix well.
Line the tarts with the Oreo mix to make a crust.
Place the tarts in the freezer.
Sunflower Butter Filling (Original)
300g Silken Tofu
1 Cup Peanut/Sunflower/Almond/etc. Butter
1/8 Tsp Xantham Gum (Optional)
Combine the ingredients using a blender/food processor/etc.
Pour into the crust and freeze for an hour.
Chocolate Ganache
5 Tbsp Vegan Milk (eg. Unsweetened Almond Milk)
1 Cup Dairy-Free Semi-Sweet Chocolate Chips
3 Tbsp Maple Syrup
In a small sauce pan, boil the milk.
Remove from heat and add chocolate and maple syrup. Mix until fully melted.
Pour the chocolate mixture on top of the tarts.
Refrigerate the tarts until the chocolate ganache has set.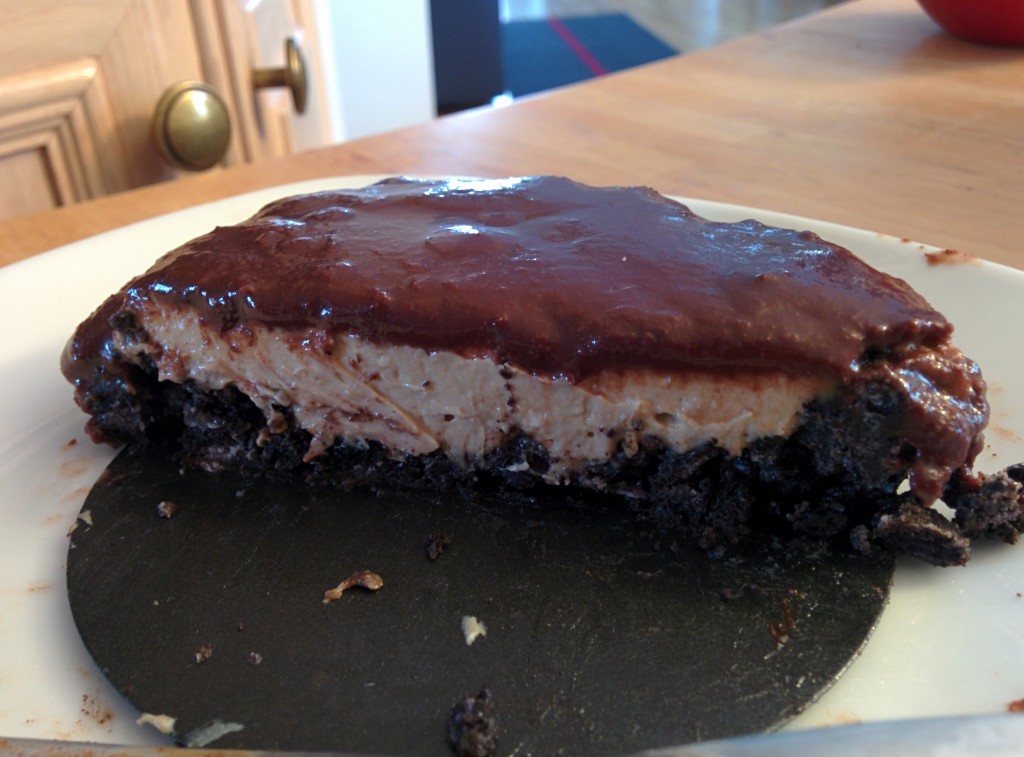 Thoughts
I improvised this recipe trying to replicate the peanut butter tarts they serve at Bridgehead. This did not at all turn out like those – everything was far softer to the point I called it a mousse instead of a tart. Still good, just different.
The crust did not hold together. The cookie crumbs would need to be finer, or perhaps use a flour plus cocoa crust recipe.