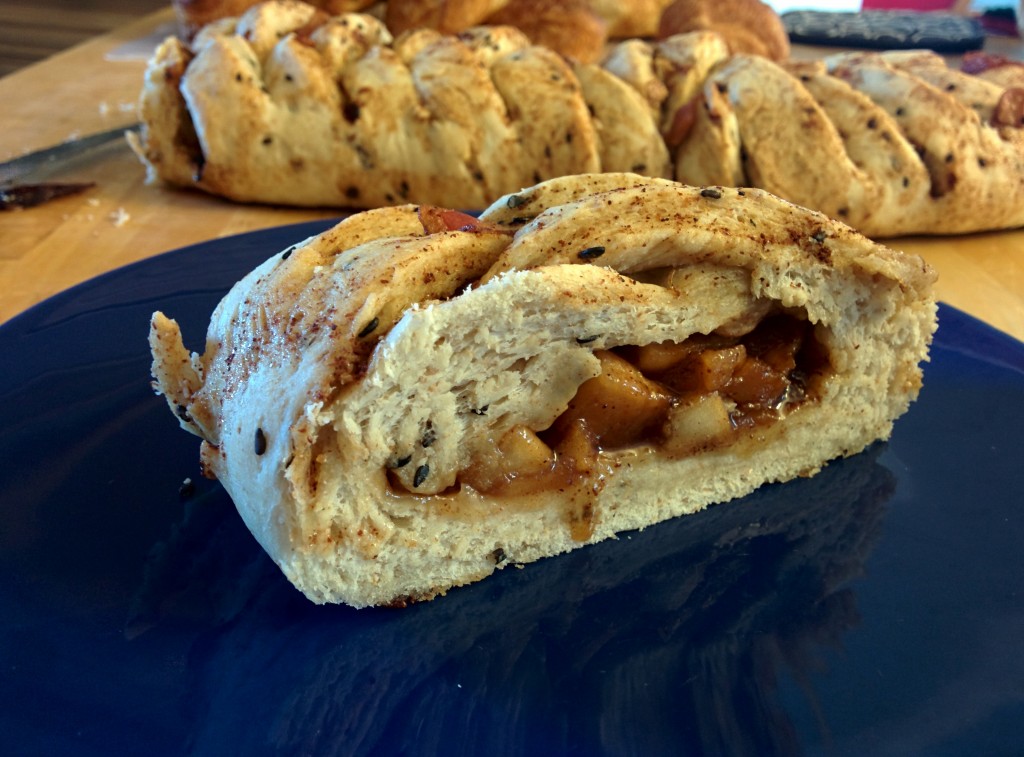 Bread Dough
The bread recipe is irrelevant, the one listed below is one I've been working with. Pick one that works for you.

3 Cup Unbleached Flour
1¼ Cup Water
2 Tbsp Oil
2 Tbsp Sugar
1 Tbsp Black Sesame Seeds
2½ Tsp Yeast
1 Tsp Salt
Throw all the ingredients in a bread machine and put it on the 'dough' cycle.
If you don't have a bread machine, here's instructions on how to do it by hand. Stop at the point where it asks you to put it in the oven for a second rise.
Roll out the bread dough in a large rectangle.
Let rise for an hour. You can skip this step but the bread will be more dense.
Apple Pie Filling
3 Apples
¼ Cup Vegan Butter
2 Tbsp Sugar
1 Tbsp Molasses
2 Tsp Cinnamon
While the bread machine is working or the bread is rising, peel and dice the apples. Make small cubes.
Place the apples and all of the filling ingredients in a sauce pan on the stove top.
Set to medium heat and cook until you don't hear a crunching sound when piercing the apples with a fork.
Putting It Together
Set the oven to 350 F.
Use a knife to cut strips along the long side of the rectangle. You want to go about a third of the way towards the center (see pictures.)
Place the prepared apple pie filling in the center that hasn't been cut up. There's going to be a melted butter mixture remaining in the sauce pan, take care to not pour it in with the filling.
Next fold in the strips to braid the bread. Start by folding in both ends. Then fold in each strip, alternating sides.
Finish off by brushing the outside of the braided bread with the melted butter mixture.
Bake until golden, about 15 minutes.