This weekend I made two macaroni and cheese recipes. They both ended up incredibly delicious. The vegan one is the best vegan variation I've ever made, and the goat cheese in the pulled pork version was astounding.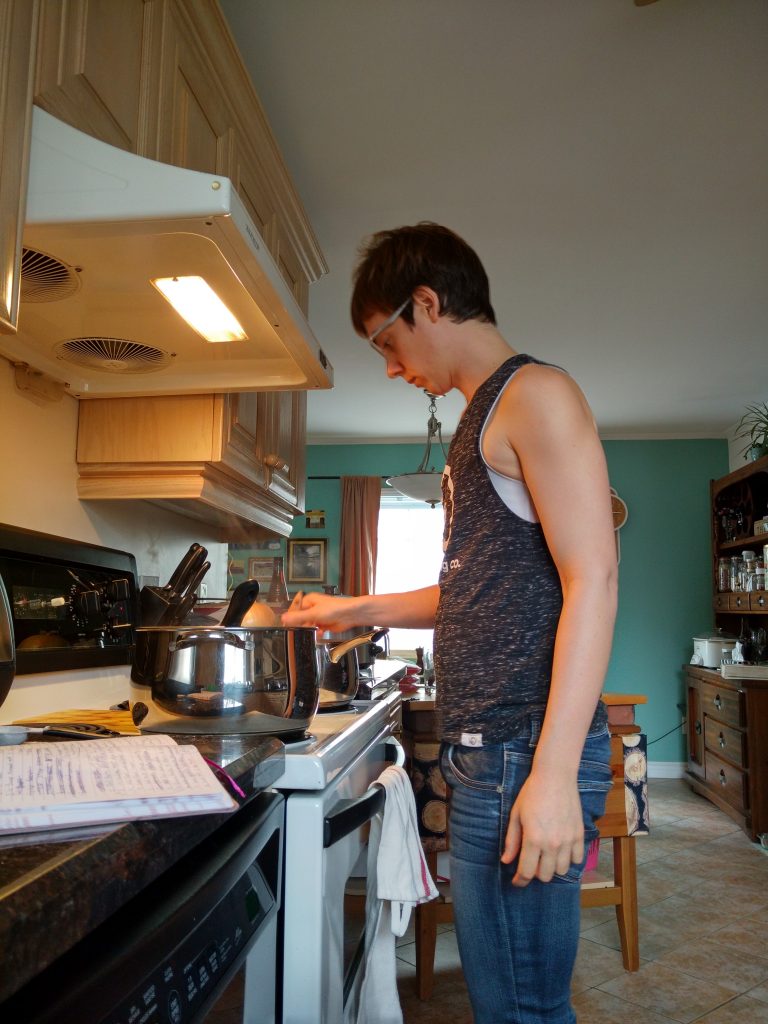 Pulled Pork Macaroni & Goat Cheese
Based on this recipe.
3 – 4 lb Boneless pork roast
1½ Cups Water
2 Tsp Seasoned salt
2 Tsp Garlic powder
2 ⅔ Cup Balsamic vinegar
2 Cup Ketchup
1 Cup Packed brown sugar
1 Cup Honey
3 Tbsp Worcestershire sauce
1½ Tsp salt
Add the roast to the slow cooker.
Top the roast with the 1½ cups water, 2 tsp salt, and garlic.
Set the slow cooker on low for 10 hours.
Add the balsamic vinegar, ketchup, brown sugar, honey, Worcestershire sauce and salt to a sauce pan.
Bring the sauce pan to a boil over medium heat. Reduce until thick and syrupy.
Drain the juices from the pork roast and shred the pork.
Stir in half the prepared BBQ sauce.
Cook the macaroni according to the directions on the box (boil water, add macaroni and salt, cook until al dente.)
Drain the macaroni. Stir the drained macaroni into the pulled pork BBQ sauce mix.
Add some of the sauce you set aside into the mixture if needed.
Serve with crumbled goat cheese for guests to top their dish with, as well as with the remainder of the BBQ sauce.
Notes
The portions for the sauce (what's pictured and half of what I have here) still makes for an incredible meal. I decided to double the portions though to get closer to the consistency that I had imagined when I was coming up with this dish. The crumbled goat cheese was a win, melting in your mouth.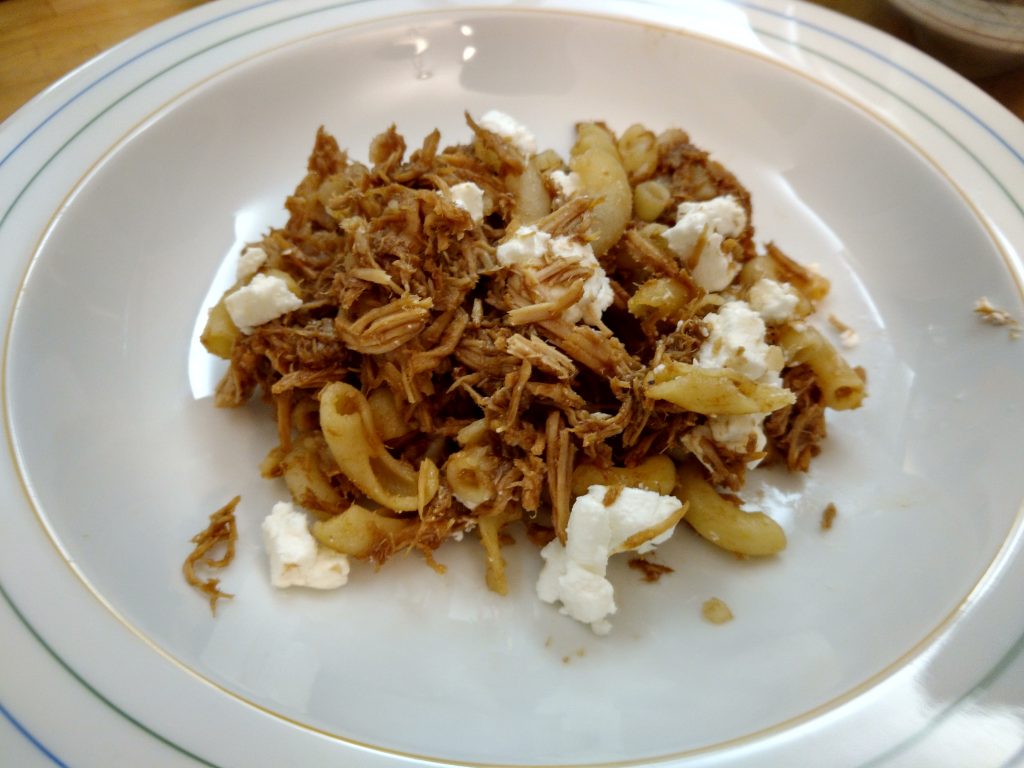 Vegan Sriracha Mac and Cheese
Based on this and this recipe.
1 lb macaroni pasta
3 Tbsp Vegan butter
3 Tbsp Flour
2½ – 3 Cups Almond/soy/rice Milk
½ Tsp Salt
½ Tsp Pepper
1 Tsp Garlic powder
3 – 4 Tbsp Sriracha
(Optional) 3 Tbsp Nutritional yeast
(Optional) Roasted red peppers, minced.
Prepare macaroni according to directions on the box. Drain and set aside.
In a sauce pan, melt the vegan butter.
Add the flour and whisk until the flour is thoroughly incorporated.
Cook the flour for 1 minute.
Add the milk to the roux, whisking constantly.
Boil the sauce and reduce until thick and syrupy.
Add the salt, pepper, garlic powde, sriracha and nutritional yeast. Mix well.
Add milk if too thick.
Pour cheese sauce into the macaroni pot and mix thoroughly.
Add the minced roasted red peppers if desired.
Serve.
Notes
This is the best vegan mac 'n cheese dish I've ever done. Maybe it's because I don't have a vitamix, but I never got the cashew-based recipes to have the right texture. This is also the closest I've ever gotten to KD, from any attempt, vegan or not.