This post is written in January 2018 and applies only to recreational use of drones that weigh under 35kg. If you're flying your drone for work or research, or if it weights more than 35kg, you must get a Special Flight Operations Certificate.
Transport Canada has proposed new rules that they expect to become law this year. These rules include age restrictions, passing a basic knowledge test and having liability insurance of at least $100,000.
Drones are not toys
This article covers restrictions on drone use in Canada. These rules are non-negotiable. Irresponsible drone use can endanger lives.
Take the small DJI Spark drone, which has a takeoff weight of 300 grams. If it were to fall from a height of 90 meters, it would impact below with the same energy as a brick dropped from an overpass.
In Canada, a drone collided with a passenger plane near Quebec City. The drone was flying at an altitude of 450 meters near an airport. Luckily, no one was hurt. The Transport Minister noted there were 131 drone incidents which were deemed aviation safety concerns in 2017.
These incidents are preventable by adhering to the rules around drone use. Failure to adhere to these rules could result in up to $25,000 fine and jail time.
Rules
Exceptions to these rules require a Special Flight Operations Certificate. These rules are taken from Transport Canada's website and Government notice on January 6th, 2018.
You must be:
Flying the drone for recreational purposes
Flying during the day
Your drone must be:
Clearly identified with your name, address, and telephone number
Under 35 kg
You must fly your drone:
Within visual line of sight
Within 500 meters of yourself
Below 90 meters (300′ AGL)
Not in the clouds
Away from vehicles, vessels and the public

30 meters away for drone 250 g – 1 kg
75 meters away for drone 1 kg – 35 kg
Includes not flying over open-air assembly of people

Away from where aircraft are close to the ground

5.5 km away from airports or locations where aircraft takeoff/land
1.8 km away from heliports
Outside controlled or restricted airspace

Away from emergencies

Not over a police or first responder emergency operation site
9 km away from a natural hazard or disaster area
Where you can fly
Being away from vehicles and the public is easy enough to tell. For a lot of people, it might be harder to establish if you're 5.5 km away from an airport or in unrestricted / uncontrolled airspace.
There's a few maps online to show where you can fly.
UAV Site Selection Tool
The UAV Site Selection Tool from the National Research Council is the best map I've found so far as it is the most comprehensive. You want to select the option for recreational drone and it'll show you everywhere you're not permitted to fly.
AirMap
AirMap provides just as comprehensive a map as the UAV Site Selection Tool but with an improved user interface.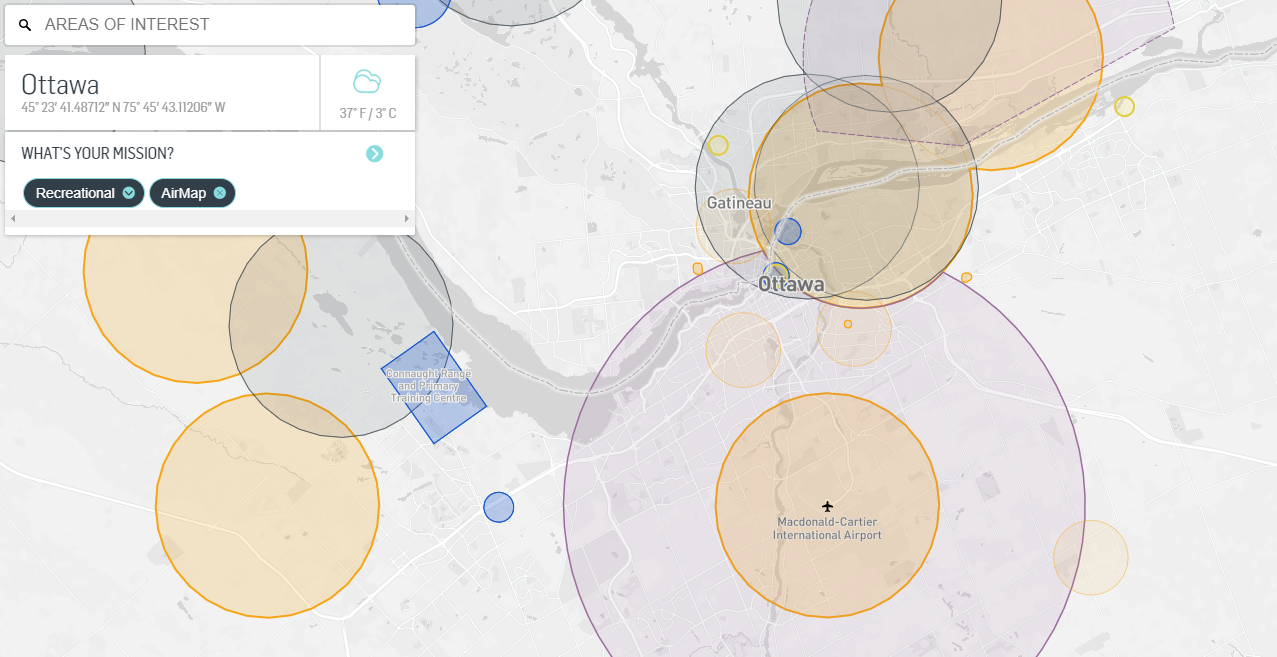 Canadian Airspace Viewer
The Canadian Airspace Viewer from Telus identifies unrestricted and uncontrolled airspace. You'll want to set the option to show airspace below 700′. It isn't as comprehensive as the NRC's UAV Site Selection Tool.

DJI Geo Zone Map
The Geo Zone Map from drone manufacturer DJI is the weakest of the contenders. They represent restricted or controlled airspace as a fixed radius from a point, when in fact some spaces are polygonal or other complex shape.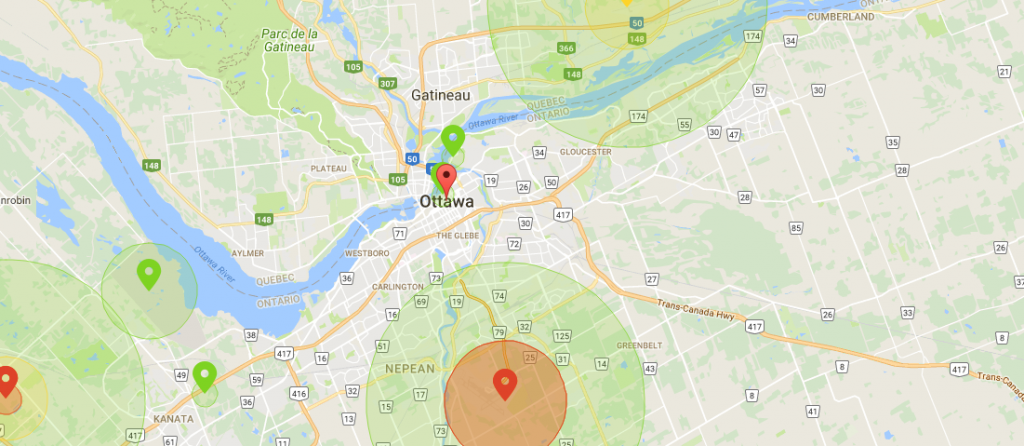 DJI deserves credit for making it so their drones cannot fly in the zones they deem restricted, but operators could still fly within restricted or controlled airspace. Do not rely on this map.
Have Fun
Flying a drone is loads of fun. So go have fun!