I was looking for a simple vegan cake recipe and stumbled on this one. I found a separate (dairy-free) cream cheese icing recipe to go with the Tofutti container I had in my fridge. The portions make a single-layered cake in an 8″ cake pan. I doubled everything to make a two-layer cake.

Almond Cake (Original)
1 Cup Unsweetened Almond Milk
1 Tbsp Vinegar
1 1/2 Cup Flour
1 Cup Sugar
1 Tsp Baking Soda
1 Tsp Baking Powder
1/2 Tsp Salt
1/3 Cup Oil
1/4 Cup Water
1 Tbsp Lemon Juice
1 Tbsp Vanilla Extract
1/4 Tsp Almond Extract
Set the oven to 350 F.
Grease and flour the cake pan.
Stir milk and vinegar in a cup.
Mix all the dry ingredients together in a bowl.
Mix the remaining wet ingredients together in a separate bowl.
Add the milk mixture to the wet ingredients bowl and mix.
Pour wet ingredients into dry ingredients. Stir mixture until batter is lump free.
Pour into baking pan and place in the oven until a toothpick/fork inserted into the middle of the cake comes out clean. Approx 35 minutes.
Almond Cream Cheese Frosting (Original)
1/4 Cup Vegan Butter (eg. Earth Balance)
1/4 Cup Vegan Cream Cheese (eg. Tofutti)
2 Cups Icing Sugar
1 Tsp Vanilla Extract
1/4 Tsp Almond Extract
Sliced Almonds (Optional)
Cream butter and cream cheese until fluffy.
Add in icing sugar and mix until smooth.
Add vanilla and almond extract, stir until consistent.
Apply frosting to a cool cake and top with sliced almonds. I used candy confetti instead of almond slices – it's whatever you want!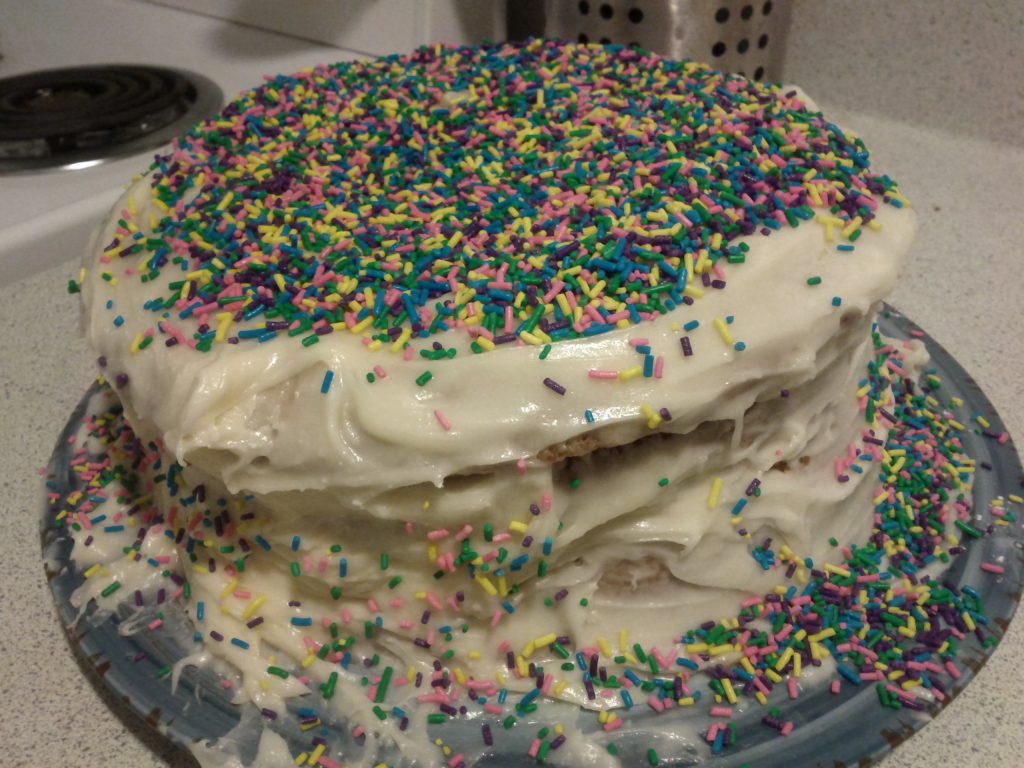 Thoughts
This cake came out dense but moist – which is as the author of the recipe I plagiarized this from said it would be like. Very similar to banana bread. I really like the almond theme, but I'd like for a lighter cake – so I probably won't make this again.