This was my second attempt at making vegan miniature cheesecakes. The first attempt was edible, but the issue was that the top was gum-like, and the whole thing would then deflate in the center as they cooled. I crumbled Oreo cookies into the formed wells to hide the flaw.
For this attempt, I used another vegan cheesecake recipe as a base. I still went with the Oreo theme, calling upon this recipe for the details.
Vegan Mini Oreo Cheesecakes
Makes 12 miniature Oreo cheesecakes.
You'll need to start at least seven hours before serving.
1 Cup Cashews
19 Oreos
1/4 Block (4 oz) Firm Tofu
4 oz (115g) Vegan Cream Cheese (half a package)
4 oz (115g) Vegan Sour Cream
⅔ Cup Maple Syrup
1 Tbsp Lemon Juice
1 Tbsp Vanilla Extract
Soak the cashews for two hours.
Set the oven to 350 F.
Place the 12 paper liners in the muffin tin. Put an Oreo cookie at the bottom of each.
Drain the cashews and place in a large bowl. Add the tofu, cream cheese, sour cream, maple syrup, lemon juice and vanilla extract. Blend.
In a small bowl, crunch up 5 Oreo cookies. Fold them into the cheesecake mixture.
Spoon the mixture into the muffin cups.
Bake for 20 minutes.
Pull out from the oven and let cool.
Refrigerate for 4 hours or overnight.
When ready to serve, discard the paper liners and serve cookie side up.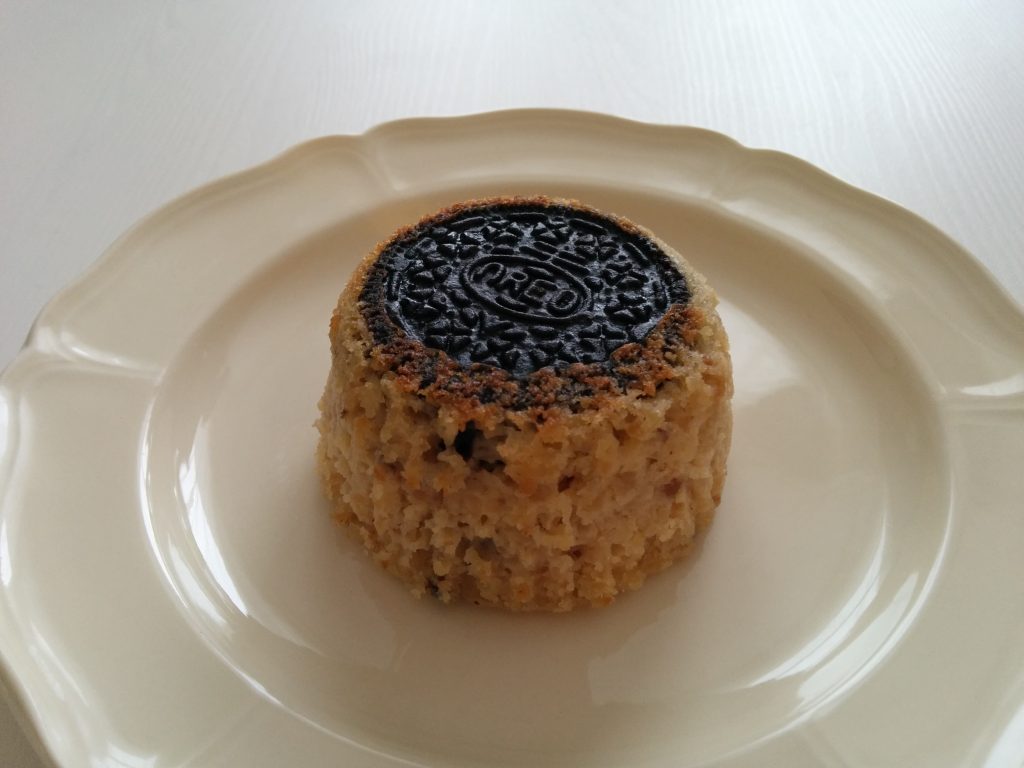 Thoughts
A definite improvement over the previous attempt. Whereas I wouldn't suggest others repeat the other mini Oreo cheesecake recipe I put together, I would be comfortable recommending this one.
That said, it has a flavour and texture onto its own which is distinct from a real cheesecake. It's a bit more cake-like. Moving forward I think I'll keep experimenting and see if there are other recipes for a cheesecake filling that are better. Perhaps this one is worth a shot. Or this one. I also won't fold in crumbled cookies on the next attempt, to make the insides a uniform white look.
This is a good little treat, and perhaps calling them "Miniature Oreo Cakes" without referencing cheese would be better.